White Trigger Stop
Back to Kel-Tec stuff



I actually like the nylon screw trigger stop myself (at lest for the P-11 and P-40), and have it on both of mine. But this was the origonal stop posted on KTOG.

quote:
---
White Trigger Stop
Named after Bill White, this trigger stop is simple, cheap and recommended to improve control and trigger recovery speed. Take a standard #2 pencil eraser and cut it in half yielding two cylinders. Glue it to the back of the trigger with Crazy Glue or epoxy about 1/8 to 1/4 inch down from the set pin. Before gluing make sure the eraser clears the sharp edge on the grip frame where it engages the frame or it will be damaged over time. An alternative location is to mount the stop on the frame itself where it will engage the trigger. We have tried both locations and each works well. Trim and shape the eraser with a small file or emery board. Adjustment is done by filing the eraser until the "break" occurs just as the stop engages. Dry firing with sights on a clear target will enable you to see if the Trigger Stop forces you to squeeze to hard. A well adjusted stop will give you a staged feel when it engages, yet not cause a move off target when pulled through to fire. The stop enables you to stage the trigger and improve control on the first shot. Double taps will occur faster because of the trigger's reduced over travel. For cosmetics, apply black magic marker to the eraser and it blends in perfectly with the gun making it look factory original. This is a great low cost modification that has no downside. Simple, cheap, easy, safe. If the trigger stop falls off, the gun will still fire in an emergency. This is a highly recommended modification that anyone can do.
---
It is getting harder to find black erasers now. Some are just using white ones and either painting them black, or using a black marker to blacken it. Another idea brought up by 3crom is to use part of a black bungee for the stop. Just take a spent .32 case and press it through the bungee (twisting and or heating may help, but with a whole bungee you will have many tries).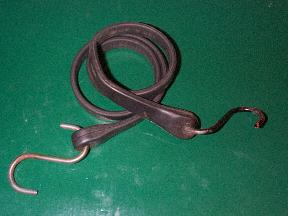 Another member of KTOG (t3chnoid) came up with another material for making this trigger stop:
quote:
---
Here's my implementation of the 'White' trigger stop. Not only is it functional, but I think it's quite aesthetic as well. Looks like it came from the factory in other words. It's a stick-on 'foot' you get at electronic or home stores like you put on the bottoms of things so they don't slide around and scratch up the furniture.


---


And A1A from KTOG used a clear one:




As I recall he had to superglue it to the grip still (the adhesive on the foot was not enough to keep it there)